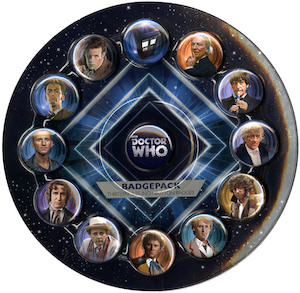 If you are a Doctor Who fan in need of some fun Doctor Who buttons then this is a got set to start with.
This button set has 13 pin back button with a diameter of 1.25 inch.
The first 11 buttons are easy to guess. Yes each Doctor has it's own button but only up to the 11th Doctor. And a set of Doctor Who pins of course need one with the Tardis on it to so that is included as well and so is one with the Doctor Who logo.
So now you can have the perfect set of Doctor Who buttons to get you started. Jackets, bags and other fabrics can all use a fun button on it.
Don't wait come get your own Doctor Who 13 Pin Button Set.