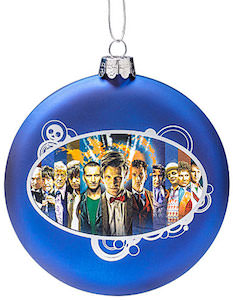 Of cours you could have 1 Doctor as Christmas ornament but how about 11 of them?
Now you can because this ball ornament shows 11 Doctors with the 11th Doctor Who in the middle.
Your Christmas tree will look so amazing with this glass ball ornament that will stand out nicely with all the other decorations.
The blue ball is made from glass and designed by Kurt Adler who is famous for his quality Christmas decorations.
So if you want Doctors 1 – 11 in your tree then you just need to get this Doctor Who All Doctors Christmas Ornament.