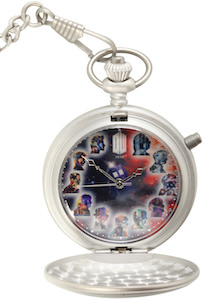 Time is a wonderful thing specially if you can travel back and forth.
But how do you know what time it is? You need a watch to tell you time.
And now there is this special Doctor Who pocket watch.
The pocket watch has Gallifrey symbols on the case and then when you open the watch you can see a watch face with the Tardis in the middle and a Doctor for each of the first 11 hours. And then for midnight there is the Doctor Who logo.
This special piece of jewelry may not be for everyday use as it is so nice that you want to enjoy it for the rest of your life. Just imagine it with a nice suit or when you dress up Doctor Who style.
You just have to have a better look from all the angels of this Doctor Who Pocket Watch.