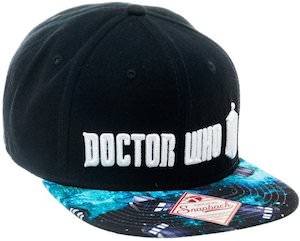 Baseball caps are great but often they are all about sport teams and stuff like that.
But now there is one you are gone like.
This is a Doctor Who snapback hat with a black top with the Doctor Who logo embroidered on it and the visor is covered with an image of space in witch you can see the Tardis flying around.
And as this a original snapback hat you know that it comes in one size that you can easily adjust in the back.
If you like to wear hats then this Doctor Who cap should be on your list of new additions.
For now at least come take a closer look at this Doctor Who Tardis In Space Snapback Hat.