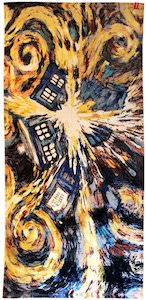 Going to the beach, swimming or just taking a shower for all these things you need a nice towel.
And now there is a Doctor Who towel that just looks like a piece of art.
OK on this towel you can see the Tardis exploding just like it was painted by Vincent van Gogh in that famous Doctor Who episode.
So with this being a van Gogh Doctor Who towel you really have a piece of art.
This Doctor Who exploding Tardis towel is 59 x 29.5 inch and that makes it great for the beach, pool and home.
Surprise yourself or a friend with this towel as it would be the perfect gift for any Doctor Who fan.
Come and have a closer look at this Doctor Who Exploding Tardis Beach Towel.