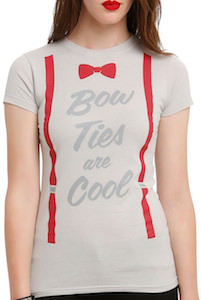 If you know all about the 11th Doctor then you know that bow ties are cool.
And this Doctor Who t-shirt gives that message one more time.
On this fitted grey t-shirt you can see red suspenders and a red bow tie and below the bow tie it says "Bow Ties are Cool".
You can get this fun Doctor Who t-shirt in women's junior sizes XSmall – 2XL and it is made from 100% cotton to give you the perfect fit and feel.
The 11th Doctor maybe a bit weird to some but at least he had a fashion sense we can spread by wearing this Doctor Who Bow Ties Are Cool T-Shirt.