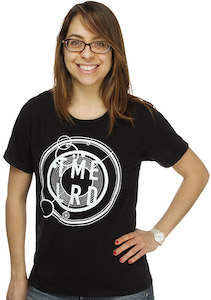 Why is the Doctor always a man?
Maybe it's time for a female Doctor Who and maybe if enough people start wearing this t-shirt then it happens.
This black women's t-shirt shows a Gallfrey style word with on top of that the text "Tme Lrd" witch of course means Time Lord.
The t-shirt is made from 100% cotton and available in women's sizes Small – 3XL and that means that many women can enjoy the feeling to be part of time lord history.
And why wait this Doctor Who t-shirt is specially made for all those whovian's that do not own a time lord t-shirt yet. So come and get your Doctor Who Gallifrey Time Lord Women's T-Shirt.