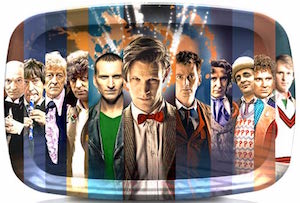 If you are looking for a perfect serving tray then why not a Doctor Who one?
This serving tray is based on the 50th anniversary year and shows 11 Doctors from the 1st to the eleventh and yes the 11th Doctor is standing in the middle because bow ties are cool.
Now you can use this tray in your home to server things when you have a party or just to use to get dinner to the table. Serving trays are so handy and this Doctor Who one even lets you move around Doctor Who merchandise.
So if you have serving to do or planing a party then come get your own 11 Doctor Who's Serving Tray.