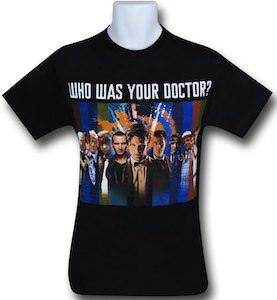 Every Doctor Who fan has it's favorite Doctor and now you can ask people who's theirs is.
On this t-shirt it shows a picture with Doctor's 1 to 11 and above that the text "Who was your Doctor?".
The Doctor Who t-shirt is black to make the doctor's stand out nicely and now you can pick.
My favorite is the 11th Doctor but I also really like number 9. Who do you pick? (leave a comment with your favorite)
This t-shirt is made from soft 100% cotton and comes in men's sizes Small – 2XL and yes it would look great on women to.
Lets get the question out there by simply wearing this Who Was Your Doctor? T-Shirt.