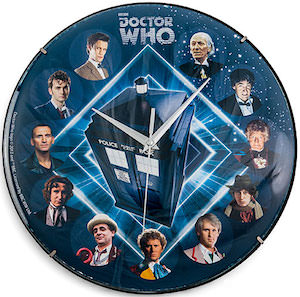 Traveling in time and space makes knowing what time it is a bit difficult but for us humans the Doctor got us this clock.
This Doctor Who wall clock shows the Tardis in the middle and 11 Doctors around it.
Each hour has a Doctor, the 1st Doctor is at one all the way to the 11th Doctor on 11 and then on top it says "Doctor Who".
The Doctor Who clock is 12 inch in diameter and is made from glass. The Doctor Who clock run on 1 aa battery witch is not included.
So lets find out what time it is with this Doctor Who 11 Doctors Wall Clock.