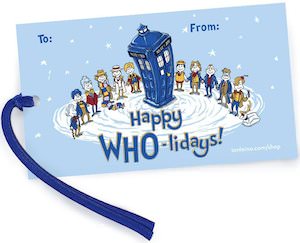 We already showed you Doctor Who Christmas wrapping paper but a Doctor Who present also needs a gift tag.
Now there is the perfect Doctor Who gift tag for you holiday presents.
The gift tag is light blue with snow in the air and 11 Doctors around the Tardis with snow on the ground and K-9 to keep them company.
And then it of course has the the "to:" and "from:" and the text "Happy WHO-lidays!".
And because you have more then 1 present to give the gift tag comes in a pack of 10 so plenty to go around and each has a blue ribbon to attach it to the presents.
Come and start wrapping the presents and marking them with these Doctor Who Holiday Gift Tags.