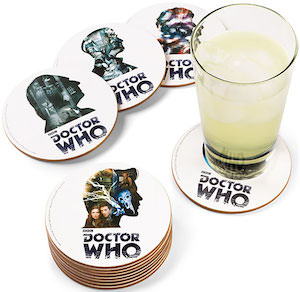 Now you can own an amazing Doctor Who coaster set.
The set has 12 coasters and the first 11 you will see a Doctor and on the 12th you find the Tardis.
The Doctor's coasters show a side silhouette of one of the Doctors and in this silhouette you can see pictures from their adventures.
Like the 11th Doctor's coaster shows Amy, Rory, River Song, Dalek and the Silence.
The Doctor Who coasters are made from a wood composite with a cork back.
So with coaster like this there are just no glass marks on tables any more and 12 coasters means that you can have a big Doctor Who party.
Come check out the pictures of all the Doctor Who Coasters.