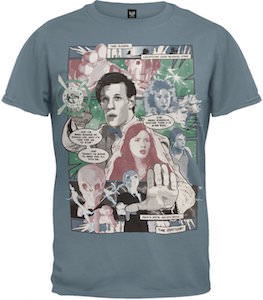 This Doctor Who t-shirt is different then most shirt you seen about Doctor Who and that it because this t-shirt is also a comic.
Yes this Doctor Who t-shirt tells the story about the 11th Doctor dying. And for that the comic of course includes Cybeman, The Silence, Amy, Rory, River Song and of course the Doctor himself.
It's a real fun t-shirt if you don't mind that the Doctor dies on it but on the other hand we all know that there is a 12th Doctor so it didn't end there.
You can get this Doctor Who comic book t-shirt in sizes Small – 2XL and many fans are gone want one to when they see it on you.
Make sure that you get your hands on this 11th Doctor Who Dies Comic Book T-Shirt.