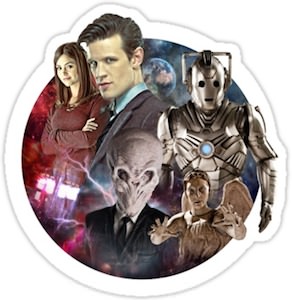 This round die cut Doctor Who stickers shows a lot of what happened in the life of the 11th Doctor.
Of course there is Matt Smith as the 11th Doctor and his Tardis there is even Clara his last companion and then some enemies like the Cybermen, Weeping Angles and the Silence.
All on one sticker and that makes this Doctor Who sticker so perfect.
Now you just need to find the right spot to stick it. And as vinyl sticker can withstand water and that makes it perfect for inside and outside.
Let support the 11th Doctor by getting this Doctor Who 11th Doctor Friends And Enemies Sticker.