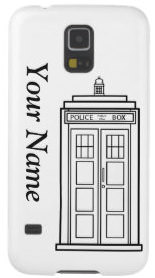 So you are Doctor Who fan with a Samsung Galaxy S5 phone that really could use a nice case.
Now there is this white Tardis case made by Case-Mate that shows the Tardis and beside it has your name and yes now you can have a case that is made specially for you.
No hard colors here just plain white with black printing and that makes it looks classy and professional and still very Whovian.
And like any good case this case keeps all ports and buttons ready for you to use.
Now you have one less thing to worry about if you protect your phone with this Doctor Who Tardis Samsung Galaxy S5 Phone Case.