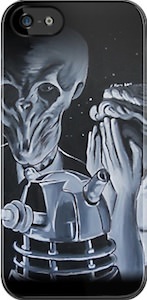 Your phone is one of those items that you can't live without as it is the way to communicate and store important things.
So why didn't you protect your favorite device with a Doctor Who special case. OK maybe the Doctor will not be happy when he sees the images on the case but at least you phone is protected.
You can get this Doctor Who phone case for the following devices:
Samsung Galaxy S4
Samsung Galaxy S3
iPhone 5s
iPhone 5
iPhone 4S
iPhone 4
iPhone 3GS
iPhone 3G
iPod touch 4e generation
also available for some iPad models
So now you know if this case will fit your phone. But what is on it. The case is black and on it in greyscale you can see 3 of the Doctor's enemies.
There of course is a Dalek and there is a Silent from the Silence order and then finally a Weeping Angel with her eyes covered.
The case will of course keep all the ports and buttons of the phone available for you to use and some cases even have the design flowing over to the sides.
If you want a phone case with enemies of the Doctor then come check out all the options of this Doctor Who Silent Dalek And Angel Phone Case.