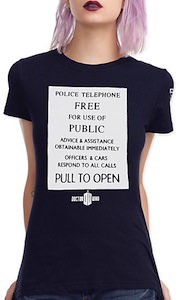 Now you can look like a part of the Tardis from the Doctor.
This blue women's t-shirt shows a the big message that you can find on the door of the Tardis and now you can make people read the complete message that you normally just quickly see when the Tardis flies by.
Below the message you can find the Doctor Who logo and then there is a fun extra on the sleeve.
On the sleeve you can find the St John Ambulance logo just like you find on the older and current Tardis.
This t-shirt has a junior fit and comes in a wide range of sizes from X-Small to X-Large.
And this Doctor Who t-shirt is made from 100% cotton.
Girls come and check this Doctor Who Tardis Message T-Shirt.