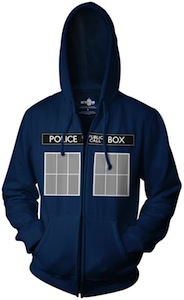 If you want to know how it feels be the Tardis from Doctor Who then you just need to wear this Tardis hoodie.
This Tardis blue hoodie has the windows of the Tardis and the words "Police Public Call Box" printed above that and this all makes for an amazing looking Doctor Who Tardis hoodie.
This Doctor Who hoodie has a zipper on the front so that it is easy to wear and of course has nice pockets to keep you hands warm.
The Tardis hoodie is made from 100% cotton and is available in sizes Small – 2XL.
And it does not really matter what gender you are this hoodie will look good on men and women.
Come check out this Doctor Who Tardis Hoodie.