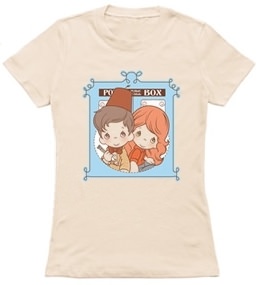 Are you a Doctor Who fan that knows the Precious Moments collection?
If you are then check out this t-shirt as it shows the Doctor and Amy in a Precious Moments styles.
Both the 11th Doctor and Amy Pond are drawn as kids complete with red cheeks and this all in front of the Tardis.
And this super cute Doctor Who t-shirt comes in a women's and men's version in sizes Small – 2Xl and in white or natural color.
Of course a fun shirt like this is made from 100% preshrunk cotton.
Just little more to say besides "Ah so cute".
So lets not wait any longer come have a closer look at Doctor Who And Amy Precious Companions T-Shirt.