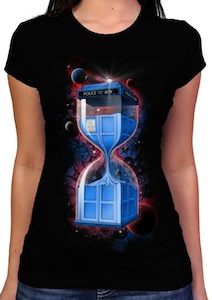 This t-shirt shows the universe and a big hourglass and in that hour glass the Tardis seems to be regenerating.
The top of this hourglass is the top of the Tardis complete with the "Police Public Call Box" message.
It is a fun Doctor Who t-shirt that you don't see very often. And this shirt comes in a range of colors and sizes and is available in a men's and women's version.
Just imagine this Doctor Who Tardis shirt in a fun color you like and all your friends staring at it as they didn't find it anywhere.
Come get your own Doctor Who Tardis Hourglass T-Shirt.