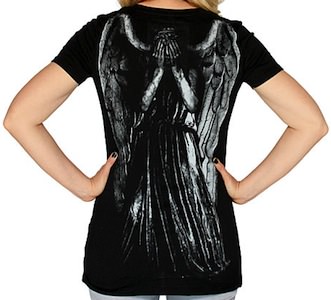 A t-shirt with a Weeping Angel on the back has one advantage, you can't see it so you don't have to worry about blinking.
People walking behind you on the other hand should definitely not blink.
So this is a black v-neck women's t-shirt  and shows a covering picture of a Weeping Angel on the back.
This design looks great and surely makes any Doctor Who fan stare at the Angel on the back but that also means that they will keep staring at you back as they can't blink.
On the front of this Weeping Angel t-shirt it says in a bottom corner the words "Don't Blink" and that is a wise advise for people that are gone watch your back.
This Doctor Who Weeping Angel t-shirt is available in sizes Small to 3XL.
Doctor Who fans that want something special should check out this Doctor Who Weeping Angel T-Shirt.