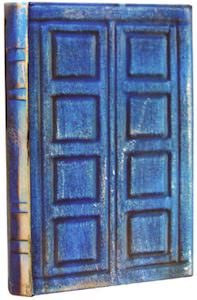 If you know River Song then you know the journal she carries around.
And now you as Doctor Who fan can have your own replica of that journal.
Now you can write the stories of your adventures or maybe use it for school or the office.
This Doctor Who journal on the outside looks a bit like the Tardis as it is blue and has the same kind of panels printed on it. And yes the cover is flat so not embossed like the one on TV.
On the inside this River Song's journal has white pages that are lined for easy writing.
This hardcover journal is 5 x 8 inches and has 160 pages for you to write on.
Doctor Who fans now is the time to start writing your story on in this Doctor Who River Song's Journal.