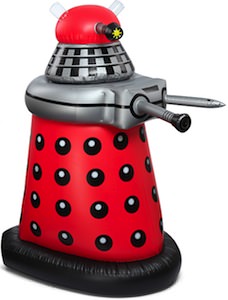 Now you can have your own Dalek, one of Doctor Who's enemies can now be living with you.
This is an almost life size version of a red Dalek witch stands more then 5 feet tall.
And to make it even more fun this is an inflatable Dalek so you can kill it any time you want by just letting the air out. (I wonder if the Doctor knows this)
This inflatable Dalek comes in two parts and that makes it possible to rotate the head.
A Dalek like this is great for your home, office or a Doctor Who party.
So time to blow up a Dalek but first come and order your Doctor Who Red Inflatable Dalek.