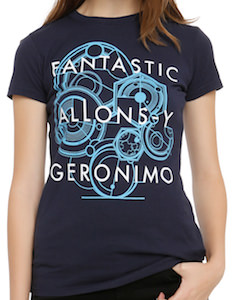 Do people make comment that you only wear Doctor Who t-shirt's?
No worries we have you covered this women's Doctor Who t-shirt may not be to obvious to most people.
The shirt is blue and has Gallifrey symbols in the background and on top of that in white letters the catch phrases of the Doctors 9, 10 and 11.
So this t-shirt says Fantastic, Allons-y and Geronimo just like our Doctors said so often.
This women's Doctor Who t-shirt comes in sizes XSmall – 2XL and those are junior sizes. And like any good Doctor Who t-shirt this one is also made from 100% cotton.
Get ready to show the world this Doctor Who Fantastic Allons-y Geronimo T-Shirt.
You may also like: