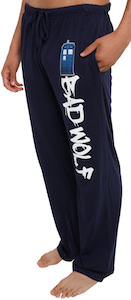 Pajama pants are great for sleeping of course but also for just being comfortable around the house and now there are some fun Doctor Who lounge pants you need to see.
The Doctor Who pajama pants are dark blue and have the Tardis on one leg with below it in a spray paint fashion the words "Bad Wolf".
You can get these Bad Wolf pajama pants in sizes Small – 2XL and those are men's sizes but that should not stop the girls from getting some.
The Doctor Who pajama pants have an elastic waist with draw string for ultimate comfort.
You may also like: