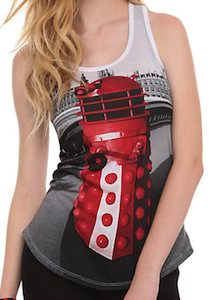 In the middle of London you could run into this fellow. A classic red Dalek but I am sure that the Doctor would prevent this from happening.
This women's tank top is white on the back and on the front you see a black and white city scene with a red Dalek standing in the middle.
This Dalek does not seem the newest version but a good old classic and that makes it more special for the true Doctor Who fans.
This Doctor Who tank top comes in sizes X-Small – X-Large.
Maybe now is the time to show the world one of the Doctor's enemies the red Dalek so come and wear your Doctor Who Red Dalek Tank Top.