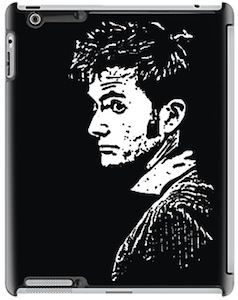 If you got a nice iPad how do you protect it?
The Doctor would take really good care of it and that is why there now is a special hard case with a picture of the 10th Doctor on it.
This iPad case is available for the iPad 2, 3 and iPad 4 and the case is black and has a picture of David Tennant as the Doctor.
And I don't know if it is my but that sideburn looks a lot like the Tardis.
The Doctor Who iPad case is black and the picture is white making the contrast real nice.
Not only does this iPad case protect the back of your iPad it will keep all the ports and buttons ready for you to use. The Doctor Who iPad case also will let you use the Smart Cover for the front so that you have a total protection of your favorite tablet.
Come and have a closer look at this Doctor Who David Tennant Portrait iPad Case.
You may also like: