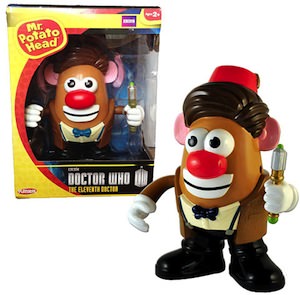 Mr. Potato Head is one of those kids toys that are so much fun to play with and now Mr. Potato Head wants to be a time lord and he choose to be the 11th Doctor.
This Doctor Who Mr. Potato Head comes with 8 removable piece including his hat and his Sonic Screwdriver.
Now that Matt Smith changed into a potato we can start thinking about the 12th Doctor while playing with the 11th Doctor as a Mr. Potato Head toy.
Not only is it super fun to play with it is also great to just have as a decoration piece in your book shelve.
Doctor Who collectors come and check out this Doctor Who 11th Doctor Mr. Potato Head.