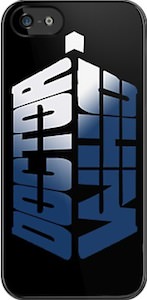 How you protect you Apple devices?
How about a Doctor Who case?
This black case is a hard case and it comes in versions for many iPhone's and even the iPod touch.
On the black you can see a blue logo style shape that looks like the Tardis and has the words "Doctor Who" on them.
This is not a cheap case off witch the picture will scrap off no this logo is imprinted in the case so it will stay and last on this Doctor Who case.
You can get this Doctor Who logo case for the following devices:
iPhone 5
iPhone 4S
iPhone 4
iPhone 3GS
iPhone 3G
iPod Touch 4e generation
And as every good case this case keeps button's and ports available for you to use without the need of removing the case.
Click on the picture above to see how this Doctor Who case will look on your device and then if you like it get you own Doctor Who Logo iPhone Case.
NOW ALSO AVAILABLE FOR SAMSUNG GALAXY S4 AND GALAXY S3!