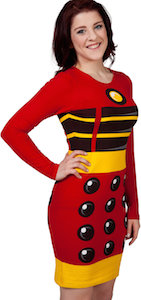 And then there was another amazing Dalek dress.
This costume dress has long sleeves and a fitting design and the dress makes you look like an amazing Dalek.
The dress is red with yellow and black details witch make this Doctor Who dress just be perfect.
On the front you can find the round eye of the Dalek and on the back it says "Exterminate" just like we expect from this Doctor Who bad guy.
The details of this dress are really nice and it give the feel of 3 dimensional parts.
The Dalek dress is made from 94% cotton and 6% spandex and comes in sizes Small – 2XL.
If you always wanted to be a Dalek then you just need to get this Doctor Who Red And Yellow Dalek Dress.