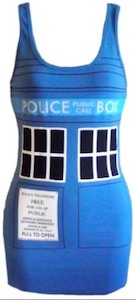 Do you have the urge to look like the Tardis?
You are in luck as now there is this tank top style dress that makes you look just like a Tardis but then a bit more sexy.
This Doctor Who Tardis dress has a junior fit and comes in sizes Small, Medium and Large.
It is made from 94% cotton and 6% spandex to give it the slim fit with a bit of a stretch.
This Tardis dress is great for everyday wear but also perfect for halloween or any other occasion you want to dress up for.
Lets get a Tardis in you closet by simply getting this Doctor Who Tardis Junior Fit Tank Dress.