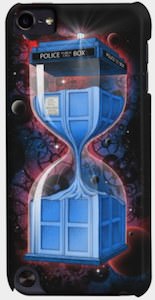 Are you a Doctor Who fan with an iPhone, iPod touch or a Samsung Galaxy phone?
If you are then are you aware that you can have this amazing designed case to protect your phone?
This Tardis hourglass design is available on case for the:
Samsung Galaxy S4
iPhone 5s
iPhone 5c
iPhone 4S
iPhone 4
iPod touch 5th generation
And each device will have their port and buttons available so that you can use it as you are used to with a bit more protection.
Just imagine Doctor Who traveling in his Tardis while it appears in a galaxy far far away. As that is the picture you can see on your device.
Come have a closer look at this Doctor Who Tardis Space Time Phone Case.