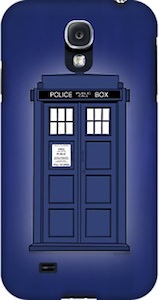 OK so you have a smartphone but unfortunately it's not smart enough to stay out of trouble often resulting at scratches or worse.
So why not give you phone the protection it needs with a fun Doctor Who phone case.
This case for Samsung and Apple phones will bring the Tardis to you and protects your phone from harm in the same time.
The case is Tardis blue and then there is a big picture of the Tardis on it. And this picture is not just stuck on the case no it's printed in the case so you don't have to worry that it will rub or scratch of any time soon.
You can get this amazing Doctor Who phone case for the following smart phones:
Samsung Galaxy S4
Samsung Galaxy S3
iPhone 5s
iPhone 5
iPhone 4S
iPhone 4
iPhone 3GS
iPhone 3G
iPod touch 4e generation
So lets get the help from the Tardis to protect your phone.
Don't wait come and get your Doctor Who Tardis Samsung Galaxy And iPhone Case.