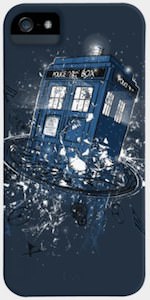 Now your phone can be protect with the power of the time lord.
This case shows the Tardis while it breaks up in time to go to it's next adventure with Doctor Who.
And this Doctor Who phone case is available for the following devices:
Samsung Galaxy S4
iPod Touch 5th generation
iPhone 4
iPhone 4S
iPhone 5
iPhone 5c
iPhone 5s
Of course each case is specially made for you device and for some devices they even have a tough version for people that need a lot of protection for their iPhone of Galaxy phone.
And if you are all hooked on this design then let me tell you that they also have t-shirt of it.
Come and look how this Tardis looks on your phone and then order your Doctor Who Tardis Breaking Time iPhone, iPod And Galaxy Case.