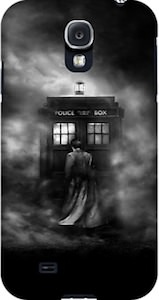 It doesn't matter if you own an Apple or Samsung phone this Doctor Who phone case is available for both kind of phones.
You can see a black and white picture of the 10th Doctor in front of the Tardis and that all surrounded by mist.
This Doctor Who case just looks stunning and while it is so pretty it will still protect your phone.
And you can get this case for the following phones:
Samsung Galaxy S3
Samsung Galaxy S4
iPhone 3G
iPhone 3GS
iPhone 4
iPhone 4S
iPhone 5
iPhone 5s
iPod Touch 4e generation
iPad 2 and retina
You see now you can have your favorite Doctor with you all the time and in return he will take care of your phone.
Come and check out how this design looks on your phone. Come check out this Tardis And The Doctor In The Mist Samsung Galaxy And iPhone Case.