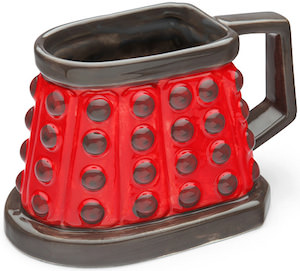 What happens when you cut the top of a Dalek?
You will have a giant coffee cup or at least that is what it could be.
This Doctor Who mug looks like the bottom part of a red Dalek. It's made from ceramic and that means that for sure it does not hold any real Dalek technology.
The officially licensed Doctor Who Dalek mug can hold up to 14oz of liquids and you have to wash it by hand and it does not like to be in a microwave either.
So if you are in need of some caffeine then why not drink it out of this Doctor Who Dalek Shaped Mug.