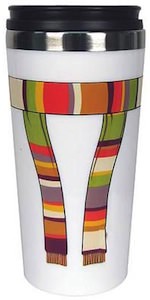 We all travel. You maybe travel to space or just to school or work either way you need a travel mug for your drink.
A warm coffee or tea in the morning to get you going would be great in a Doctor Who travel mug.
This Doctor Who mug is not screaming Doctor Who it is just a plain white mug with a scarf on it and yes it is the scarf of the 4th Doctor and that makes it great for a true fan.
This Doctor Who travel mug has a plastic BPA free outer shell and a stainless  steel inside. Of course it will keep your hot drinks warm and you cold drinks cold and that all while being an amazing Doctor Who mug.
The 4th Doctor travel mug can hold up to 16 ounce in liquids and that should be enough to get your day started.
Come have a closer look at this Doctor Who 4th Doctor Travel Mug.