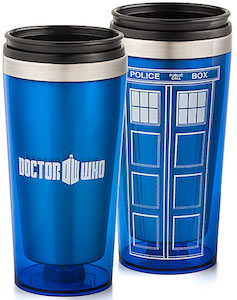 Just imagine leaving home with your own coffee in this Doctor Who Tardis travel mug.
People will smile and stare at how amazing this Tardis mug looks.
The mug has a stainless steel inside and a plastic see through blue outside with the doors of the Tardis on one side and the Doctor Who logo on the other side.
This Doctor Who travel mug can hold up to 16oz of you favorite hot drink.
And now think about the barista's expression when you hand them your Tardis mug for a refill.
Your life will change for ever if you start using this Doctor Who Tardis Travel Mug.