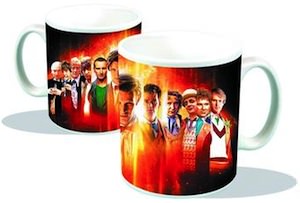 Why drink coffee or tea out of a mug that only has one Doctor on it?
This Doctor Who mug has 11 Doctors on it all staring at your while you enjoy you morning coffee or afternoon tea.
Simply amazing to have one products that had so many adventures because all those Doctors together have so many stories to tell.
And just count how many hearts there are in this picture yes 22 is the answer.
So much to think about when you enjoy your drink out of this Doctor Who mug.
And also wonder what happens to Doctor number 12?
Don't wait come and get this Doctor Who All The Doctors On One Mug.