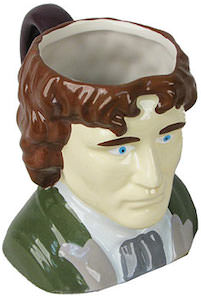 The 8th Doctor did not get to much air time but still he is a real Doctor Who.
And now you can have a bust mug from the 8th Doctor in your collection of coffee and tea mugs.
This Doctor Who mug is shaped just like the head of Paul McGann with all the details we know about this Doctor.
Maybe it's time to start collecting all the Doctors as coffee mugs so that they can stare at your from the cupboard.
Now is a great time to go shop for your next coffee mug. Come and get your Doctor Who 8th Doctor Face Bust Mug.