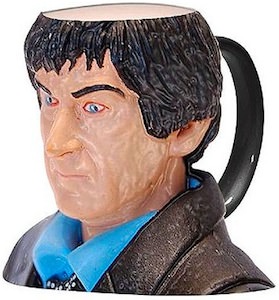 Always wondered what goes on in the head of a Doctor?
Now this 2nd Doctor has a lot of room for coffee or tea as it is a coffee mug.
This bust coffee mug looks just like the 2nd Doctor Who and he sure can't smile even after all that coffee in his head.
A ceramic mug like this is a great addition to a Doctor Who collection and even if you don't drink from his head you can have him stand with you collection of Doctor Who merchandise you collected over the years.
Lets enjoy our drinks out of this Doctor Who Patrick 2nd Doctor Figural Mug.