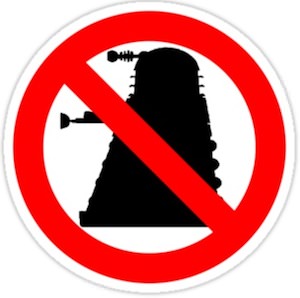 This sticker shows the typical traffic sign that tells you that something is not allowed.
And in this sign you can a picture of a Dalek so this means Daleks not allowed.
Doctor Who should get one of these stickers on his Tardis to tell those annoying Daleks to stay away.
This Dalek sticker is die-cut and that means that it round just like the traffic sign and that makes it fun to stick on almost anything from you bedroom door to your laptop. This sticker will even work outside so you can stick in on your car to.
Get enough of these sticker to stick them anywhere and you get 50% of the sticker if you buy 6 or more.
Help the Doctor to keep the Daleks out by sticking some of these Doctor Who Daleks Not Allowed Sticker.
You may also like: