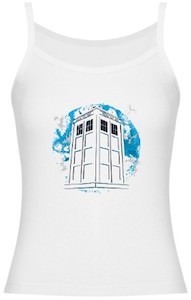 Of course you need a special Doctor Who spaghetti strap tank top for the summer.
This tank top will give you room for lots of sun exposure and has the Tardis on it.
You can only get this tank top in white and on that you see the silhouette of the Tardis against a blue cloud background.
And if spaghetti straps are a bit to revealing for you then you are in luck as you can get this designs on normal t-shirt's to.
This tank top comes in junior sizes Small – XLarge.
Get ready for the sun of summer with this Doctor Who Tardis Silhouette Spaghetti Strap Tank Top.
You may also like: