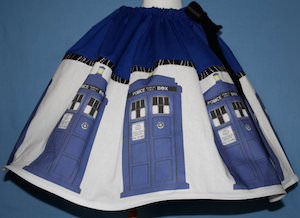 Now there is a Tardis skirt for women all sizes.
Are you the Doctor Who fan that is really looking for a fun Tardis skirt?
How about this one the top part of this Doctor Who skirt is Tardis blue and below that a big white space appears but that space is covered with big pictures of the Tardis.
The Tardis skirt measures 18 inch from the waist and 75 inch around.
This Doctor Who Tardis skirt is great as everyday wear but also for a Doctor Who convention or just when you are watching the Doctor on TV.
Come and read about all the details about this amazing Doctor Who Tardis Skirt.
You may also like: