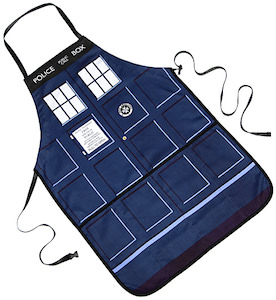 An Apron is a great way to stay clean while doing cooking or crafts and it can also show what you really like.
This Apron looks like the Tardis doors from Doctor Who.
So if you are a fan of Doctor Who then this is the apron to have.
The apron comes complete with the typical door message and the St. John ambulance message.
Just imagine the joy while working in the kitchen with the Tardis so close.
You just need to come have a closer and better look at this Doctor Who Tardis Apron.