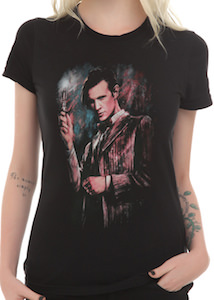 With the 11th Doctor being one of the past you need a real nice reminder of this amazing Doctor Who.
This black girls t-shirt shows an artsy version of the Doctor and his Sonic Screwdriver.
You can get this 11th Doctors' t-shirt in junior sizes XSmall – 3XL.
Just imagine wearing this amazing shirt that almost looks like a painting of the best look of the 11th Doctor.
You can be the women that has the 11th Doctor with her all the time and when wearing this t-shirt you tell the world about the your love for the Doctor.
You should at least have a closer look at this Doctor Who 11th Doctor Artsy T-Shirt.
You may also like: