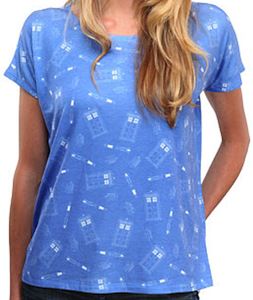 It doesn't mater if you like your shirts fitted or loose this Doctor Who t-shirt can be worn either way.
And on this blue Doctor Who t-shirt you can find many of your favorite things from the TV series.
You can find the Tardis, Sonic Screwdriver and the Doctor Who logo on this t-shirt and not just once now it will get back over and over again to fill the shirt.
The women's Doctor Who t-shirt may look busy at first but then you realize how fun and playful it looks.
So if you are a fan of the Doctor then come and have a closer look at the print of this Doctor Who All Over T-Shirt.
You may also like: