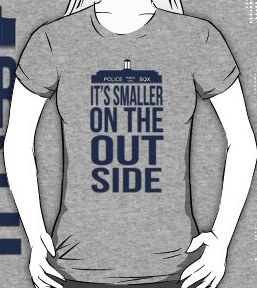 A Doctor Who fan knows that the Tardis is bigger on the inside and this t-shirt says "It's smaller on the outside with the top of the Tardis above it.
A fun t-shirt like this suppose to be in every Doctor Who collection.
The t-shirt comes in a range of styles for men and women and in a wide selection of colors.
And if the Doctor only allows you to wear organic cotton then no problem they even have a version of that.
If you want to tell the world that you are bigger on inside like the Tardis then this smaller on the outside t-shirt will do.
Come and get your own Tardis It's Smaller On The Outside T-Shirt.