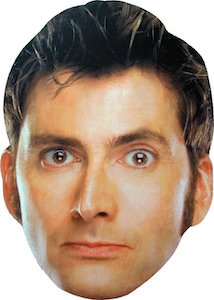 OK so you decide to look like Doctor number 10.
And sure it does not matter if it's for everyday or just for Halloween or a dress up occasion.
We found the perfect face for you costume. Because now there is this cardboard David Tennant mask that will transform you into the Doctor in no time.
The mask is so realistic that I expect that you automatically start talking like Doctor Who would.
Just imagine walking around wearing this mask and holding a Sonic Screwdriver, it will just be so surreal.
I would not wait any longer because you don't want to miss out on this Doctor Who 10th Doctor Cardboard Mask.