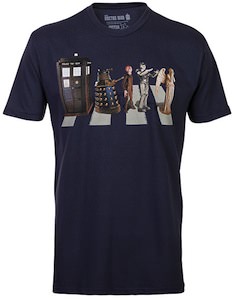 The Beatles are not here but instead the Tardis and a bunch of enemies of the Doctor are crossing the road on the crosswalk at Abbey road and this all put on an strange Doctor Who t-shirt.
On this Doctor Who t-shirt you can see a crosswalk and the Tardis, A Dalek, A Silent, A Cyberman and a Weeping Angel are all trying to cross the road.
It looks a lot like the famous Abbey Road picture from the Beatles but then more with alien lifeforms.
This Doctor Who t-shirt is available in men's version and a ladies babydoll version and both come in a wide selection of adult sizes.
So if you like to warn the world of the enemies we may have to face then come and get your Doctor Who Abbey Road T-Shirt.