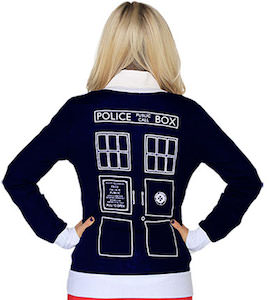 Doctor Who fans in need of a nice cardigan will love this one.
This Doctor Who cardigan is dark blue with on the front not much more then a small Union Jack flag but on the back you can see the big doors of the Tardis complete with St. John Ambulance logo and everything.
Besides being dark blue the ends of sweater are white giving a nice contrast for the dark color.
If you are looking for at special Doctor Who piece that really looks nice and not to fan girly then this could be the one.
You should have a closer look at the front and back of this Doctor Who Tardis Union Jack Cardigan.