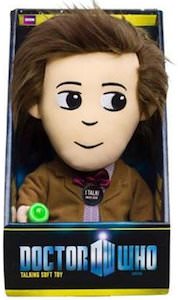 OK you collect anything Doctor Who but do you have your own Doctor yet?
If not then this is a plush made to look like the 11th Doctor.
This Doctor Who plush is 8 inch tall and of course looks just like the Doctor complete with red bow tie and a Sonic Screwdriver that lights up. And to make this plush version of the Doctor even better they made it possible for the plush to talk.
This plush Doctor Who is a must have item that should not be missing in your Doctor Who collection.
So why wait come give the Doctor a home, get your own Doctor Who 11th Doctor Plush.