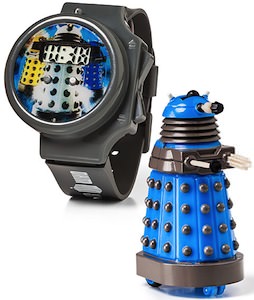 Do you want a Doctor Who watch and a remote controlled Dalek?
You are in luck as this is both.
The little blue Dalek can live on the watch bad when not in use and other wise you can control it with the Dalek watch.
Yes this r/c Dalek is controlled by the watch that has buttons on it to navigate the blue Dalek around.
And besides being a great toy this is also a great Doctor Who watch. The digital watch has a bunch of Dalek on the watch face and that is different then most watches so it is special.
Get your own Dalek that you can control with the watch and wait for the Doctor to show up to see what is going on.
So come and get your Doctor Who Dalek R/C Watch.