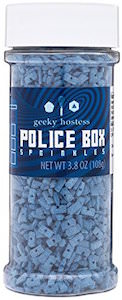 What would a plain cake or cupcake need to make a Doctor Who fan happy?
Yes the Tardis and now there are sprinkles that looks just like the famous police box from the Doctor.
These sprinkles are Tardis blue and have a little hole in them to make them look more like the real police box we all love.
There are 108 grams of Tardis sprinkles in each bottle and that is enough to make a true Whovian happy many times.
Why keep your frosting plain when you can decorated with these fun Doctor Who inspired sprinkles.
Come take a look at these Doctor Who Tardis Shaped Sprinkles.