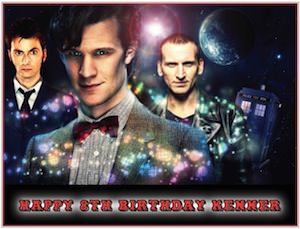 Are you looking for that perfect Doctor Who birthday cake?
I know it's hard to find one but there is a simple solution.
This is a edible cake topper image that you can put on a cake you bake or one you buy in store and then you have your Doctor Who cake.
On this edible image you can see 3 Doctor's there is the 9th, 10th and 11th Doctors and of course the Tardis all against a picture of the galaxy. And below that image you can have your own birthday message witch will be part of the image.
And this Doctor Who edible cake topper image is kosher, gloten free, soy free and transfat free. Just stick it on the cake and eat it with the yummy cake below it.
Come and prepared for the birthday cake by getting this Doctor Who 3 Doctors Edible Cake Topper Image.